Yes, you can make your notifications in 103 languages including English.
The languages in which you can have your notifications are as follows:
Afrikaans
Albanian
Amharic
Arabic
Armenian
Azerbaijani
Basque
Belarusian
Bengali
Bosnian
Bulgarian
Catalan
Cebuano
Chichewa
Chinese (Simplified)
Chinese (Traditional)
Corsican
Croatian
Czech
Danish
Dutch
English
Esperanto
Estonian
Filipino
Finnish
French
Frisian
Galician
Georgian
German
Greek
Gujarati
Haitian Creole
Hausa
Hebrew
Hawaiian
Hindi
Hmong
Hungarian
Icelandic
Igbo
Indonesian
Irish
Italian
Japanese
Javanese
Kannada
Kazak
Khmer
Korean
Kyrgyz
Lao
Latin
Latvian
Lithuanian
Luxembourgish
Macedonian
Malagasy
Malay
Malayalam
Maltese
Maori
Marathi
Mongolian
Myanmar
Nepali
Norwegian
Pashto
Persian
Polish
Portuguese
Punjabi
Romanian
Russian
Samoan
Scots Gaelic
Serbian
Sesotho
Shona
Sindhi
Sinhala
Slovak
Slovenian
Somali
Spanish
Sudanese
Swahili
Swedish
Tajik
Tamil
Telugu
Thai
Turkish
Ukrainian
Urdu
Uzbek
Vietnamese
Welsh
Xhosa
Yiddish
Yoruba
Zulu
The Notifications language can be changed in the following steps after you have made your campaigns or even at the time of making the campaign.
1. For every type of notifications, the following window is displayed.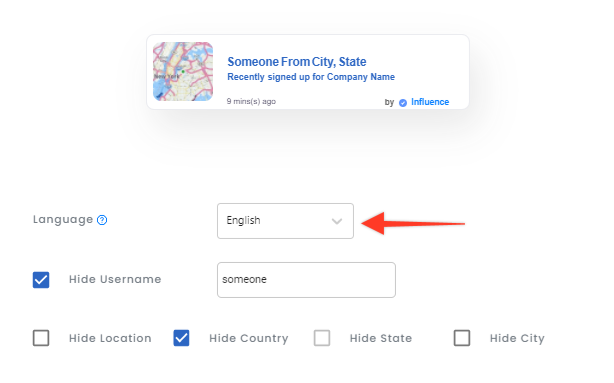 2. As pointed out in the above image, you will find the language drop-down menu. You can select the desired display language of your choice.
3. Please Save the notifications and you are good to go.
To avoid grammatical errors, we would suggest you to change the language first and then change the text as per your requirement in the text boxes provided under the features section of every notification.
You can even learn more on how to change the language by checking out our video tutorial mentioned below.